The Art and Teaching of John Robrock
Biography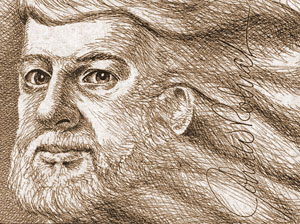 John W. Robrock is a native of Cheyenne, Wyoming with four degrees from the University of Wyoming: B.S. Art, B.S. History, M.A. Studio Art and M.F.A Studio Art. He has taken additional courses at the Colorado Institute of Art, UCLA, Otis College of Art and Design, El Comino Community College, and Cal State-Los Angeles.
He has taught at the college level at the University of Wyoming, Eastern Wyoming Community College, and Gavilan College. He has also served as guest lecturer of portraiture or cartooning at schools in San Diego, California; Takoma Park, Maryland; Monza, Italy; Buenos Aires, Argentina and Colonia, Uruguay and taught beginning drawing privately to adults and youth in Los Angeles, Pasadena (California), Douglas (Wyoming) and Milan.
Most of his artistic career has been devoted to teaching art at the high school level: three years in Edgemont, South Dakota; two years in Douglas, Wyoming; six years in Hawthorne, California (Los Angeles metropolitan area), a half-year at the Lincoln American High School in Buenos Aires, Argentina, and a year in Piedmont, California. His 9th through 12th grade students at Hawthorne High School won numerous awards for their art work including scholarships to college and Saturday art seminars, savings bonds, books, and trips to Japan and Washington, D.C. Since August 2001, he teaches drawing and painting, including Advanced Placement and Regional Occupational Program courses, at San Benito High School in Hollister, California.
He attends the National Comics Convention in San Diego regularly, and is a member of the Hollister Art League, Pacific Grove Arts Center, and Pajaro Valley Arts Council. Volunteer work includes design and fabrication of theater sets and costumes, make-up and performance for high school and college theater and the Pasadena Doo Dah Parade. He has designed posters, coordinated film series, and worked as a student chaperone on European trips and High School Summer Institute (University of Wyoming) counselor.
Robrock's preferred media are charcoal, pastel, conte, color pencils and pen and ink. He is also experienced in etching and lithography. He prides himself on a Renaissance style realistic approach and agrees with the principles of the American Society of Classical Realism of Minneapolis, Minnesota and Atelier Royal of Riverdale, Maryland. The primary subjects of both his M.A. and M.F.A. art shows were portraits and nudes drawn from life.
His work hangs in private collections in California, Arizona, Illinois, Iowa, Wyoming, Maryland, Connecticut, Texas, South Dakota, Argentina, South Africa, and northern Italy. He has exhibited in galleries and juried competitions in Laramie, Wyoming and Washington, D.C., Milan, Italy and Colonia, Uruguay. Awards include: California Teachers Association, Second Place, 2001; San Benito County Fair, Professional Artist Category, 1st Place Awards, 2001, 2002, 2003, 2004; First Place Award in Drawing, Seven State Regional Competition, Cheyenne, Wyoming, 1989; First Place Award in Professional Drawing, Wyoming State Fair, Douglas, 1984; Second Place Award in Professional Drawing, Wyoming Artists Association, Pinedale, 1984, plus numerous student awards while attending the University of Wyoming. Examples of his artwork grouped by subject theme: Portraits, Nudes, Western Art/Wyoming, and Uruguay.
In 1997 he left the US to study and teach in Milan, Italy and then moved to Buenos Aires, Argentina in January, 1999, then to San Francisco, California in April 2000.
---
---